The default dashboard now includes beautiful line graphing functionality, but if you've customized it at all, then you have to enable it manually. Go to your dashboard preferences (click the icon in your tab bar, then "dashboard" sub-tab) and check the box "For historical data, show line graphs instead of simple HTML bar graphs". Then you'll start seeing things like this: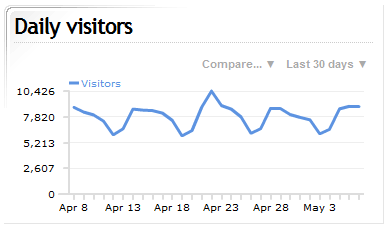 Don't you just want to eat that because it looks so good?
(Please note: If this is not working on your computer, please email Sean a screenshot of what you see, along with the exact URL in your browser's location bar. I need to know what OS you are using and what browser (including the version), e.g. Windows IE 7, Mac Firefox 2, etc. Also please verify that you have Javascript enabled and at least Flash version 8 installed on your computer. Thanks!)
The date drop down menu lets you choose between last 30 days, 90 days, or 180 days, for whatever it is you are viewing. If you have a custom date range selected (globally speaking), then that option will be shown as well.
The "Compare…" menu is where things get a lot more interesting! Much like our visitor filtering feature allows you to compare two sub-sets of visitors side by side (example), this lets you compare two pieces of data as well. Except that they don't have to be directly related, although you might find that they are once you view the data. For example you could compare…
Searches for "Clicky" vs visitors from New York City
Hits to your homepage vs visitors using Internet Explorer
Visitors from social media sites vs bounce rate (Hint: strong correlation)
If you have the line graphs enabled, you can use them to view the historical data for ANY items on your dashboard, or any item in any of the other "popular data" pages, by clicking the trend percentage figure (the red or green percentage on the right hand side). I mention this because based on our own click tracking (with Clicky of course), not many people view the trend data for individual items, so I thought I'd mention it in case you didn't know how.
Full functionality of all of this is available to everyone through Sunday. After that time, the comparison feature will only be available to "Pro" members, just like the visitor comparison feature is. The date selection feature will only be available to premium members (any level), since free users don't have access to more than 30 days of data anyways. If you want to upgrade, the upgrade page is here.
Of all the requests we get, this has been in the top 5 for as long as I can remember. I'm so excited to have it in the product finally! I've always liked the simple HTML bar graphs we've had but I knew we needed something new. One of the problems is that I didn't really like any of the available options that I could find – either way too expensive, way too overused (fusioncharts), or just plain old crappy (but usually free). The other problem was that none of us at Clicky know Flash at all, so we were unable to develop our own solution. Then one day recently, someone sent in another email on this subject, but they included a reference to a product called Open Flash Chart. I checked it out and knew almost immediately that this was what we had been waiting for.
I'd like to conclude with some linky love to the developer of this software: Free flash graphs and charts! We're also considering paying him a large sum of money to make some customizations for us, because there's a few things I want to do that I just can't at the moment, one of them being there's no way to have different lines in the graph have unique tool tips. This problem is apparent when you select the "same item, previous period" option – the date shown for when you hover over the previous period line is the same as the current period, instead of 30, 60, or 180 days ago. I also think the tool tip shouldn't jump around quite as sporadically as it does when hovering over the values. But these are minor issues, so go enjoy the new features already!