We just launched a revamped upgrade page with some highly requested feature customization options.
1 minute uptime monitoring intervals – When we launched uptime monitoring in beta back in January, we said that 1 minute uptime would be "coming soon". Ha. Anyways, we still haven't launched Monitage as its own standalone product yet, so we still consider it a beta feature for the moment, but we've had a lot of requests for 1 minute monitoring so now you can choose that interval if desired. There's also the option to increase the number of monitors you can have per site, up to 10 (default is 3).
Higher heatmap sampling – Heatmaps by default only sample 50% of visitors, minus mobile visitors (we'll eventually log them, once we get to test things them more). Now there are more options for this, all the way up to 100% (again, minus mobile visitors).
API throttling – Back in February we had to start throttling the analytics API, as some customers' heavy usage was impacting some of our database servers' ability to keep up with real time. This only impacted a couple of specific data types though: visitors-list, actions-list and segmentation. There are two aspects to throttling. One is that we only allow one request per IP address per site ID at a time. The other is that these types of requests are limited to 1000 results and a max date range of 7 days. The option to remove API throttling that we are offering now is for the first throttle only, that is, you will now be allowed to send unlimited requests per IP address per site ID. However, the date range and max result size of 1000 will still be in effect. We've analyzed the data and we just can't offer this without impacting a large number of customers.
Here's what the new upgrade page looks like: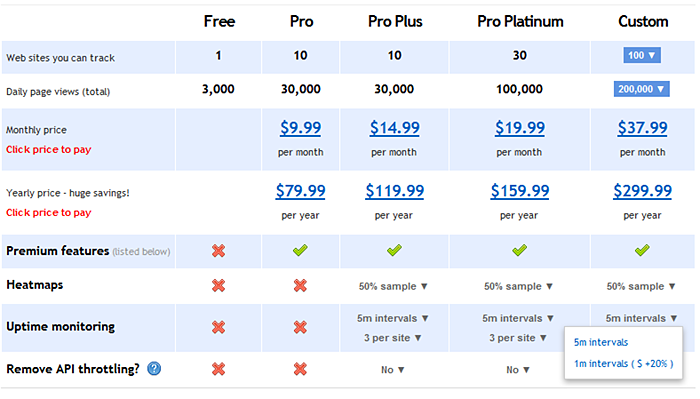 Each customization you choose increases the price by a certain percentage, such as 10%. They don't compound though, meaning if you choose two upgrades that each increase the price, they are each calculated based on the core price of the non-customized plan.
If you're ready to take the plunge, you can upgrade here.