Like it or not, we live in a digital age. Even businesses that rely on in-store visits for sales benefit from a strong online presence. Customers have come to expect that you have a website, and companies who put in the effort to create a strong online presence reap the benefits. That's true regardless of industry or what stage you're at in your company's lifecycle.
What is an Online Presence, and Why You Need One?
Online presence can be as simple as a local listing on Google My Business or as complex as a digital marketing platform consisting of a comprehensive marketing campaign that includes a website, social media presence, email, and an analytics package to reveal insights about how all the parts work together..
It may be time-consuming and complicated for the uninitiated, but establishing a solid online presence brings a high ROI that improves both retention rates and lead generation/conversions.
In fact, 73 percent of mobile searches result in further engagement or purchases by the user; 55 percent of these actions are initiated within one hour of a mobile search. Your online success or failure can be quantified through metrics and witnessed by likes, shares, comments, and reviews.
Generating traffic is one of the biggest challenges for eCommerce merchants.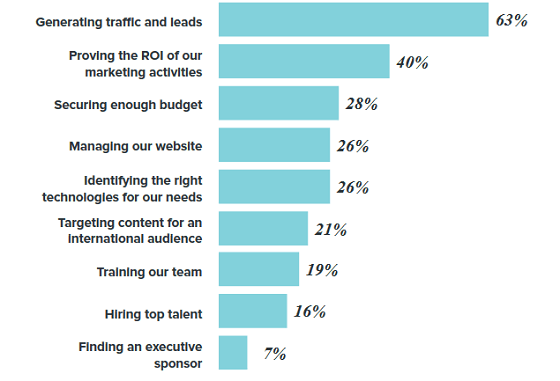 Establishing a presence and driving traffic isn't always easy, but it will:
Make it easier for customers to find you
Allow you to showcase products or services
Build relationships and trust
Establish your authority
Market your brand
Your online presence allows you to reach people where they are rather than hanging out a shingle and hoping they find you. Although some science and technology go into creating a positive digital footprint, there's also an art to it that raises your profile and fosters customer loyalty.
The key to successful customer conversion lies in grabbing traffic and bringing it to your website. Read on to learn six easy, reliable ways to consistently get eyes on your content and convert leads into loyal customers.
1. Invest in AdWords
We don't normally support paid platforms; organic SEO is much more sustainable. However, AdWords is a proven traffic generator that offers several benefits. Even startups with small advertising budgets can benefit from this strategy because you only pay when your ad is clicked.
What is AdWords?
It's a paid search mechanism that uses a pay-per-click model to increase website traffic and search engine page ranking (SERPs). You may have noticed that before Google reveals search results, the first four or so listing are paid advertisers. This puts their ads above the fold on the listings page, which is right where you want to be.
Used wisely, AdWords will:
Display your ads at the top of Google search pages for your keywords
Place banner ads for your business on Google-owned platforms like Gmail and Youtube
Advertise your company on affiliate websites and apps
Promote your business app on iOS and Android app stores
How does it work? In six simple steps.
Create an account
Choose a campaign name and type
Decide on which geographic location to display your ads
Determine a bid strategy and daily budget
Install ad extensions
Create your first ad and launch
Don't know what keywords to use to drive traffic through your ads? Google has tools and tips for that as well, but we'll give you the short version of what not to do right here.
In general, your AdWords efforts will fail due to:
Not using the right mix of keywords and phrases among broad, long-tail, and exact matches
Lack of ad extensions and badly written ads
Misunderstanding or miscalculating profit margins and conversion rates
Overlooking the value of negative keywords for refining your list; these are words that give you results that are unrelated to your content
Not bidding on brand-related terms on AdWords; the best words are worth the investment to keep them off the platforms of your competitors
Not knowing your customer lifetime value (CLV); this will help maximize your paid advertising investment
Not beta testing for optimal placement and content type/construction
2. Use SEO Tools
Search engine optimization is what helps determine your page ranking, which in turn determines your visibility. Fewer than six percent of searchers ever veer beyond page one; most won't get much further than the first five or so listings on the results page.
Doing SEO manually is proven to provide the most authentic and sustainable results, and the basics don't cost much more than a little time and effort. Best practices show reliable results through:
Adding keywords strategically throughout your content
Including relevant external links to industry authority blogs
Adding internal links and creating a sitemap to help search engines properly index your website
Writing meta descriptions
Optimizing content to improve speed
The tech world has also created a bucketful of tools to help achieve the same kind of optimization results as organic SEO. Content and web page builders like Wix and WordPress have plugins that are specially developed to help with everything from keyword creation to traffic analysis and recommendations for improvement. You can also find a range of keyword checkers and website SEO evaluating apps that will help with your SEO audit and improvement.
A surprising source of effective tools is your hosting service. Your website is the bread and butter of your business, so choosing a platform that's optimized for eCommerce will give you a built-in advantage. When you compare the top eCommerce website platforms based on features, you'll notice one important variable – 3rd party marketplaces matter. Platforms like Shopify offer hundreds of add on features all built and developed by third parties. While you might have to pay a bit more, you're getting a much better product.
3. Leverage Social Media
Mention of social media brings mental images of FB posts and shares. This platform is still the number one way of providing social proof of your viability as a company, but it isn't the only game in town. More eCommerce merchants and marketers are learning how to leverage other social media platforms, and they're becoming adept at finding the best use of each to accomplish different marketing goals and KPIs.
For example, if your service is one that has a visual component, such as cosmetic dentistry or interior decorating, an image gallery of before/after photos would be a good use of photo-based platforms like InstaGram or Pinterest. Do you have a lifestyle brand? Try adding a YouTube channel of actual clients living that lifestyle. Moving images and video to a dedicated platform rather than adding them directly to your webpages not only allows you to expand your online presence beyond your website, it serves two other purposes:
Reduces page load times
Allows you to double index your content, once for web search and another for video or image content using alt text
Influencer marketing is an offshoot of social media outreach and engagement. Although there are a number of celebrities influencing trends via social media, many look and sound like your neighbor or someone close to you. This makes them more approachable and their opinions seem more genuine and organic than a paid endorsement. The key is finding an influencer who has a wide body of legitimate followers, who would likely use your brand, and who has a positive reputation in the cyber world.
4. Create Fresh, Actionable Content
Google algorithms are focusing more on user experience (UX) than almost any other metric. Although how much someone enjoys your content or products can sometimes be objective, there are ways to gauge it by keeping an eye on certain metrics like unique views versus return visitors, click-through-rates, and conversions. These performance indicators tell you – and Google – how many people visit your page and their actions and behaviors while on your page. Web pages that attract a lot of traffic, especially repeat visitors, and keep eyes on their content longer are generally considered to deliver a quality experience.
Why would people visit a website and keep coming back if they aren't getting anything from the experience? Sure, the product or service might be the best, but people won't know that if your website is filled with broken links, takes a long time to load, or makes the checkout process a pain. Those sources of dissatisfaction will show in high bounce rates and cart abandonment.
Great content that's evergreen, properly optimized, and actionable draws traffic to your website, provides them with value once they're on your page, and provides them with unambiguous guidance once they're there.
For example, consider a construction business that creates an email that links to a landing page promoting a new service. It should be concise, telling the reader what the service is, how it will benefit the visitor, and why they're the best company to provide that service. Then, they should provide the visitor with a definite course of action, like visiting the website, calling to request an appointment, or sharing the information.
5. Provide Added Value to Your Visitors
People always love to feel like they're getting a little extra, and they will keep coming back to companies who treat them like they deserve attention and perks that go beyond basic. There are many ways that you can add value to the customer journey that provide a high ROI for very little effort or money on your part.
For example, you can:
Referral programs are another great way to increase traffic when you consider that 81 percent of consumers rely on recommendations from family or friends before making a purchase. You can even improve your online reputation by attaching a brief survey or soliciting a review. Referrals can include offering a discount on your service for inviting friends, giving store credit for referrals, or depositing cash in accounts for new and referring clients.
6. Establish Your Authority
One of the best indicators of success in business is customer loyalty, and it starts with trust. When you establish your authority in your industry, customers will come to rely on you and your company for solutions to everyday problems. All of the above tips put together into a robust marketing campaign will go far toward establishing authority, but there are a few simple tricks to get there quicker.
One of the most proven ways to gain authority is an endorsement, mention, or link from a more established brand that's related to your industry. Since many of these brands and influencers are in high demand, start with an inquiry to the right person within that company proposing a guest post on a trending topic. You can also become active on their page by sharing and commenting.
Another great way to establish your authority and get your brand before the public is to become active on industry forums and platforms like Quora. You can also create a LinkedIn profile and build a network. Don't forget to augment your profile with on-site articles and links to your other platforms.
Final Thoughts
Work smarter, not harder. That saying is even more true in the digital age. The old way of marketing was to bombard people with fliers, mailers, or cold calls and wait for the law of averages to work its magic. You may have even toyed with creating a landing page of building an email subscriber list.
Did you find that your efforts fell flat and give up?
Today's business owners need to be more proactive and visible than that. Establishing an online presence in a way that's sustainable over the long haul helps you understand your market better and reach them where they live. You'll gain keen insight into consumer behavior and pain points, which helps you market your solutions in a more focused manner.
That's what drives conversions, and it all begins with marketing to improve your traffic flow.